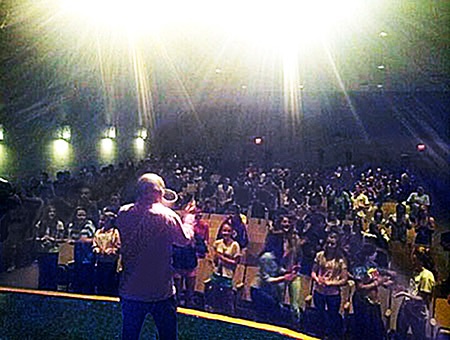 Click Here for ANGEL'S PERCUSSION INSTRUMENT GUIDE


The Angel Wagner Music Workshop is a multi-cultural introduction to the percussion sounds of the Caribbean and Latin America. The program is designed to give each student a "hands on" experience. The goal of the workshop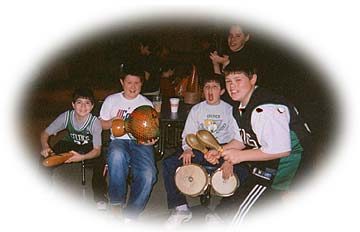 is to teach students the names, uses, compositions, and countries of origin for each individual instrument. Each workshop is custom designed to address the educational level of the students.

The workshop format has been presented before an entire school as a field trip, and as a classroom instructional. Angel's popular and successful "Caribbean Tour" can be taught in English or Spanish. Angel supplies an ample amount of instruments according to the number of students. The pre and post workshop cultural experience can be enhanced by utilizing the award-winning Web site to continue the multi-ethnic learning experience.

State and Federal funding available through N.E.F.A. and Massachusetts Cultural Council. Please call at 508-783-6726 or e-mail for information. www.GrupoFantasia.com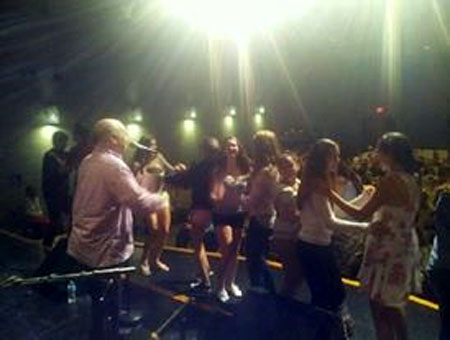 A small example of our current client list includes:
New Hampton School
White Mountain School
Phillips Andover Academy
St. Paul's School
St. Johns's Peparatory School
Brewster Academy
Concord Academy
Hamilton-Wenham Regional High School
East Middle School, Braintree, MA
Thomas Blake Middle School, Medfield, MA
Medfield High School
Many Danvers, MA Schools
Triton Jr. High School
Triton Regional
Thomas Blake
Fuller Meadow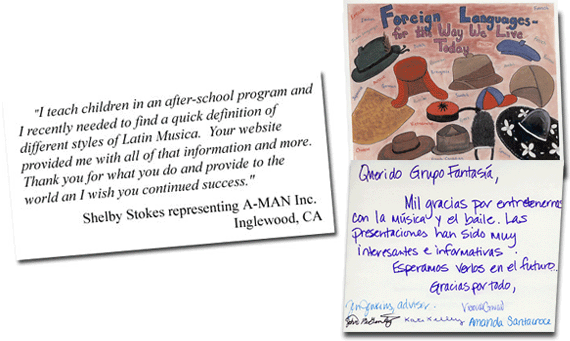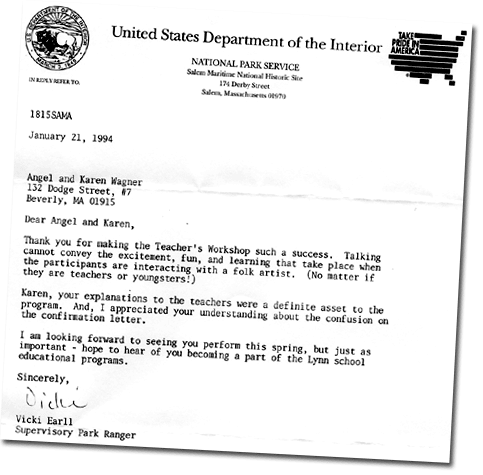 CELEBRATE LATINO MUSIC AND DANCE WITH THE WAGNER HISPANIC HERITAGE MONTH AWARENESS PROGRAM


Teaching of the contributions of Hispanic Americans, and learning about the cultures from which they come, will be the focal point of many classroom activities and discussions in the weeks ahead as students across the United States recognize Hispanic Heritage Month -- September 15 to October 15.

During Hispanic Heritage Month, we reflect on the history of the people who were part of this land long before the birth of the United States. Hispanics were among the earliest European settlers in the New World, and Hispanics as a people - share a rich history and great diversity. Hispanic Americans have roots in Europe, Africa and South and Central America, and Spain. This diversity has brought variety and richness to the mosaic that is America and has strengthened our national character with invaluable perspective, experience, and values.

Many Hispanic Americans trace their roots to the cultures of the indigenous peoples of the Americas -- including the Arawaks (Puerto Rico), the Aztecs (Mexico), the Incas (South America), the Maya (Central America), and the Tainos (Cuba). Others trace their roots to the Spanish explorers, who in the 1400s set out to find an easier and less costly way to trade with the Indies.
VIDEO / DVD:

"ROOTS OF RHYTHM"
With Harry Belafonte
A worldwide celebration of Latin music from Africa to the Caribbean and America.1994

"BLUE DINER"

"SANTANA LIVE BY REQUEST"
FOR SONGS, MUSIC, CULTURE, AND CONTINUING EDUCATION ON ALL THINGS HISPANIC, ANGEL SUGGESTS:
WEBSITE: www.elboricua.com