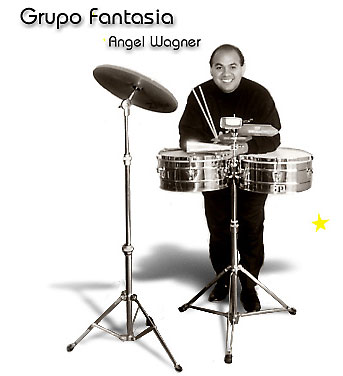 Angel Wagner, musical director of Grupo Fantasia and master percussionist, plays more than 30 instruments. Angel has studied at the Harbor Arts Academy in New York, The Berklee College of Music in Boston and in the 1990's, tutored on congas under Grammy nominee, Giovanni Hidalgo. Currently, Angel is a band leader, percussion teacher, director of the Wagner Multicultural Workshop and percussionist in his band Grupo Fantasia.

Originally from the Dominican Republic, Angel began his career playing with a cheese grater and fork! At age eleven, Angel went on professional tour with a Merengue band, later performing in Miami and at Madison Square Garden in New York. Angel has performed with such groups as Aramis Camilo, Orchestra Cafe, Luis Ovalles and Manguito.

Angel formed Grupo Fantasia in 1993, with musicians from all around the world. Over the years, Fantasia has performed at the Calle Ocho festival in Miami, as well as touring extensively throughout the Northeast. His performances include a multitude of schools, universities, colleges, fundraisers, private functions and musical galas, allowing him to team up with the most exclusive event coordinators and party planners in New England.

Angel Wagner provides traditional island entertainment for all people and much of the music is performed on original, handmade indigenous instruments. The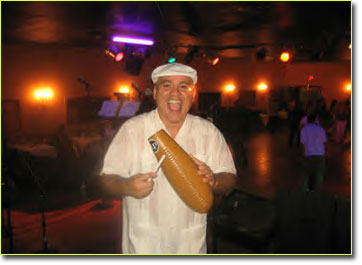 extensive repertoire includes original and cover songs from the Caribbean and Latin America. Also represented are various Cuban, Dominican Merengue, Puerto Rican Bomba and Plena, Colombian Cumbia, Reggae and Salsa music.

Some of Angel's performances include, The Lowell Folk Life Center, Museum of Fine Arts, The Concord Museum, The Museum of Science, The De Cordova Museum, Castle Hill and the Boston Children's Museum. In July of 1996 he performed on the State House steps for the passing of the Olympic Torch in Providence, Rhode Island. Angel was honored on two occasions in 1998 by performing for President Clinton and Mrs. Clinton. In 2008 Grupo Fantasia was honored by performing the 76th birthday party for Senator Ted Kennedy at his Hyannisport compound. Grupo Fantasia has opened for such popular bands as Marc Anthony and the Counting Crows.

Fantasia has won many awards in Latin categories, including Boston's prestigious 1993 Expose Award for BEST SPANISH BAND (1993), runner up in the Hispanic American Chamber of Commerce Award for Education (1999) and the 2003 Boston Music Award Nominee for BEST WORLD CLASS ACT. Grupo Fantasia are the 2009 winners of The New England Urban Music Award for Best Latin Band.



Angel has filmed television programs including: Pachanga Latina for WUNI 27, PBS programs and Mosaic for WLVI TV 56 in Boston. Film credits include THE BLUE DINER (2001) and MY BEST FRIEND'S GIRL (2008) starring Kate Hudson and Dane Cook.

Angel's love for fine dining mixed with his adoration of great music has led him to perform for many celebrity chefs and their restaurants. Just some of the literally hundreds include: The Naked Fish, Acapulco's, The Bay Tower Room, Sombreros, The Madfish Grille, The Studio, Bella Mia, The Fireplace, Brazo and Agave in Portsmouth, The Intercontinental Hotel in Boston, Division 16, The Cottonwood Cafe, The Cactus Club, Locke-Ober's, Stephanie's on Newbury, Captain Carlos and The Beehive. Fantasia regularly performs at such Boston clubs as Avalon, Zoe's, The Roxy, The Beehive and The Jorge Hernandez Cultural Center.

Angel Wagner and Fantasia have teamed up with the Mass Cultural Council and NEFA, with available GRANTS and FUNDING for qualifying applicants. Information, school programming and current rates can be obtained through Grupo Fantasia's AWARD-WINNING Web site at WWW.GRUPOFANTASIA.COM or e-mailing info@grupofantasia.com.

Angel and his wife Karen reside in the seaside city of Beverly, Mass.

Contact: KAREN WAGNER 508-783-6726

Visit us at: WWW.GRUPOFANTASIA.COM

YOU TUBE: GRUPOFANTASIA click here