Reprinted from The Salem News Online
Thursday, March 16, 2007

What's Shaking? Latin Rhythms Make School's International Week Pop


Salem News
By Amanda McGregor
Staff writer

DANVERS - Senior Michelle Balmaceda wasn't afraid to take the high school stage and shake her hips in front of 300 of her peers.

A live Latin band drummed up contagious energy Wednesday as Balmaceda and classmate Maria Concepcion guided the other students through the swivels, spins and hip-pops of salsa and the merengue.

"I've been dancing since I could walk," said Balmaceda, beaming and slightly winded after the dance. "It's my thing. I love it."

The assembly in the auditorium was part of International Week at Danvers High School. Every day this week, from 1 to 2 p.m., different musicians and presenters visited the school, bringing with them some cultural customs and flair.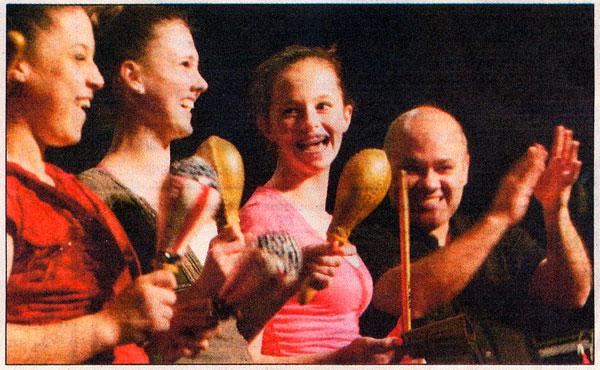 Angel Wagner and Friends at Danvers High School
Grupo Fantasia provided Wednesday's entertainment, and leader Angel Wagner gave a crash course on the various instruments that create Cuban, Puerto Rican and Dominican music, including gourds, bongo drums and maracas.

"Let's start our tour - We're going to go to Cuba!" belted Karen Wagner, a member of Grupo Fantasia, riling up the students who cheered and clapped along with the rhythms.

It is the high school's third annual International Week, which was organized by the members of the World Language National Honor Society.

Click below to return to: